We had a really nice award ceremony at the Tricktisch after watching 9 animated submission films to the soundtrack of Coman Purcell. Many thanks for all animators who joined the challenge, who joined the event, who supported the FrameRage Animation to the Sound Challenge. And many thanks to Coman for giving us this nice soundtrack.
FrameRage Winner No.5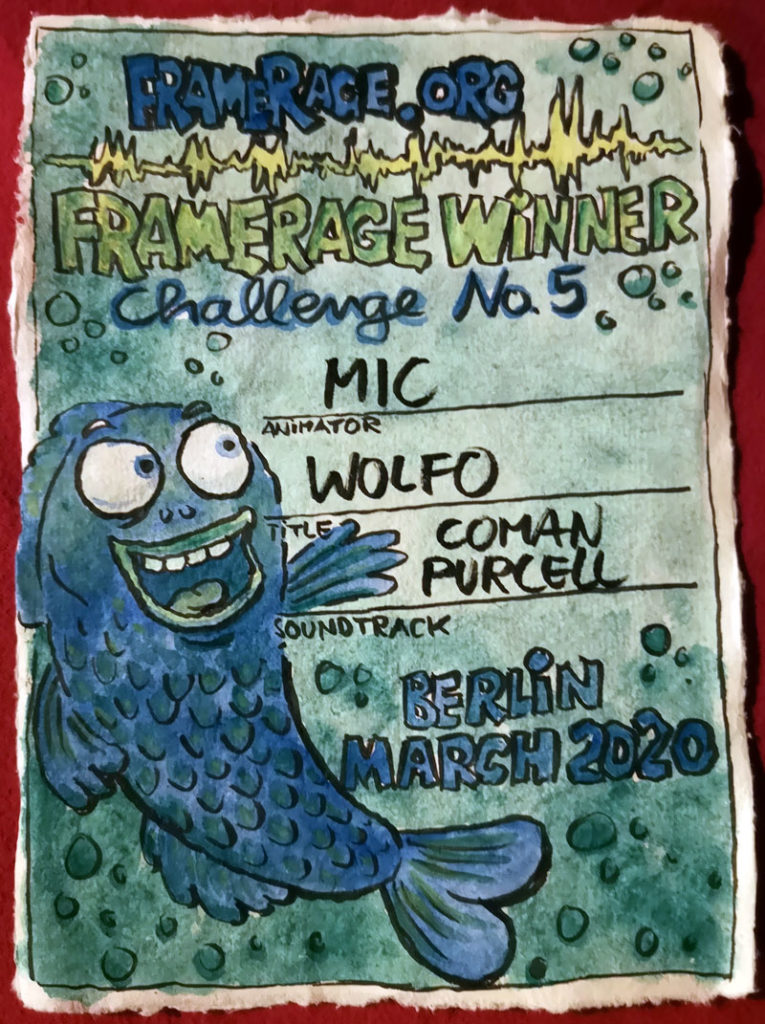 Congratulations! The winner of the FrameRage Challenge No.5 is Mic (Lololand) with his animation "WOLFO" to the soundfile of Coman Purcell.
MIC at Facebook: https://www.facebook.com/WeLoveDictator/
Further Animations of the FrameRage Challenge No.5
Ulf Grenzer – Frühlingsrolle
https://de.linkedin.com/in/ulf-grenzer-0219b83b
Veronika Kühner – Zapping
http://veronikakuehner.de
Justanother Anarchist – EGAREMARF
https://vimeo.com/user109122821
Fidan Akhundova – Die Krähe
http://www.fidanakhundova.com
https://www.instagram.com/fidan.akhundova/?hl=de
Tania de Leon Yong – Y sin embargo se mueve
http://www.taniadeleon.com
Matthias Daenschel – planet b
https://matthiasdaenschel.de/
Aygün Völker – The Solution
https://www.pans-studio.de/
Markus Wende – Coming from Outer Space
https://www.animationsfilm.de/
https://www.facebook.com/Cartoons-von-Markus-Wende-1690229424582675/
All animations are made to the soundtrack of Coman Purcell
comanpurcell.com