The FrameRage Show of the 6th Challenge was organized as an open air event at the Wagenburg Lohmühle Berlin. Over 60 guests came to see the 11 animations for the soundtrack by Stefan Roigk. The wonderful show was made possible by the Lohmühle team and we thank you very much for the perfect organization in terms of technology, beverage supply and loving design of the course.
FrameRage Winner No.6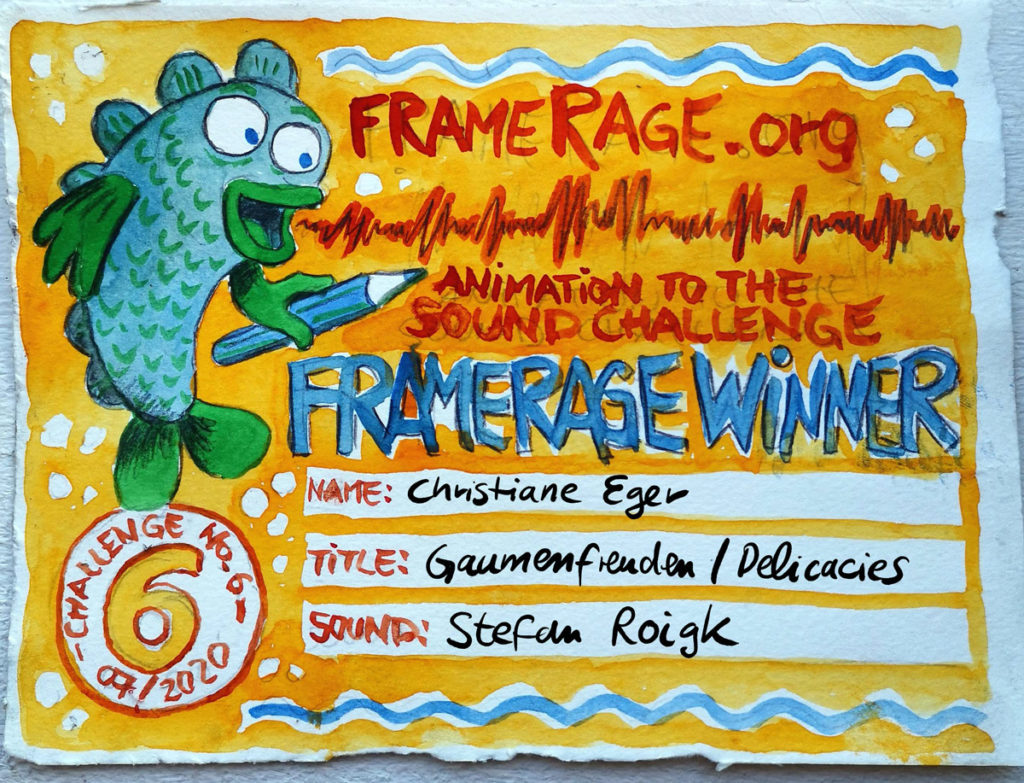 Congratulations! The winner of the FrameRage Challenge No.6 is Christiane Eger with her animation "Gaumenfreuden / Delicacies" to the soundfile of Stefan Roigk.
Christiane Eger: http://www.amcreations.de
Further Animations of the FrameRage Challenge No.6
Justanother Anarchist – Framerage6
https://vimeo.com/user109122821
Evelyn Brancard – FramerageMarch
Kirill Abdrakhmanov (Kirillka) – NO(i)SE
http://www.kirillka.de
Till Sommer – Insight Fight
https://www.instagram.com/2d_ani_art/
Veronica Solomon – Berries
https://bendpanic.com/
Emmanuel Murzeau – Rio Dollar
http://www.emmanuel-murzeau.com
https://www.facebook.com/manumurso
Markus Wende – Autoexplosive
www.animationsfilm.de
https://www.facebook.com/Cartoons-von-Markus-Wende-1690229424582675/
https://www.instagram.com/animationsfilm.de/

Gonçalo Nobre – Sai Fai
https://www.behance.net/goncalonobre
https://www.instagram.com/gnobre/

Anne Kochan – Blobs'n'Flies
http://www.vimeo.com/annekochan

Maria Steinmetz – framerage No.6

All animations are made to the soundtrack of Stefan Roigk
http://www.stefan-roigk.com/